The big Picture
We are interconnecting Community, Industry, Research and Government.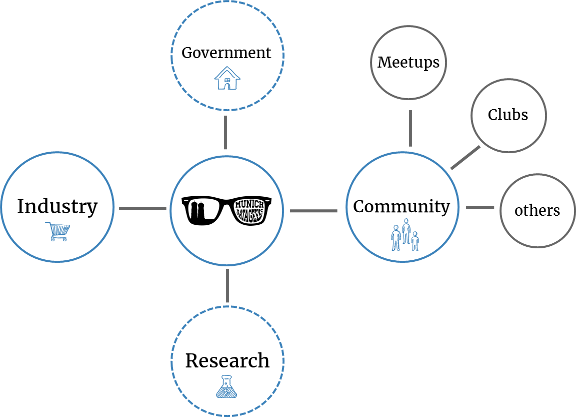 Our root in the Community is the Datageeks Meetup. We have already achieved a strong connection and presence in this area. To further improve the networking aspects of the community we want to establish partnerships with other data science meetups to help each other and to gain more visibility among people also interested in data science.
We already work closely together with companies in the data science Industry. Mainly they support our meetups with locations, food and beverages. In return they get the opportunity to present their company to the community. The networking during the meetup is a great way for people from the community to get in touch with leading, Munich based companies.
We are a platform for Researchers to present their studies, thesis, current projects, theories to a broader audience and also get in touch with companies that may be interested in their findings.
Due to our diversity in data science topics we draw attention from a lot of different Research area. This also increases the interconnectivity between different branches of science.
We also want to establish cooperation with the Bavarian Government to further get attention to Munich as one of the leading areas for data science in Europe.
With the help of Research, Government and Industry we want to increase our activity in the Community even further. The first step is an annually whole day event. It's like a conference, but in meetup style. With talks from the community, for the community. It's open for everybody.